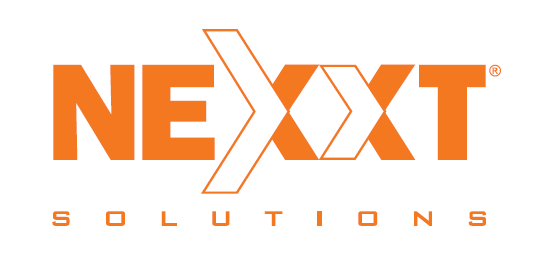 NOTE: Your new router is compatible with any operating system, it only requires a browser to access the configuration website. (IE, Firefox, Opera, Chrome, Safari, etc.).
AMP300 ARN02304U8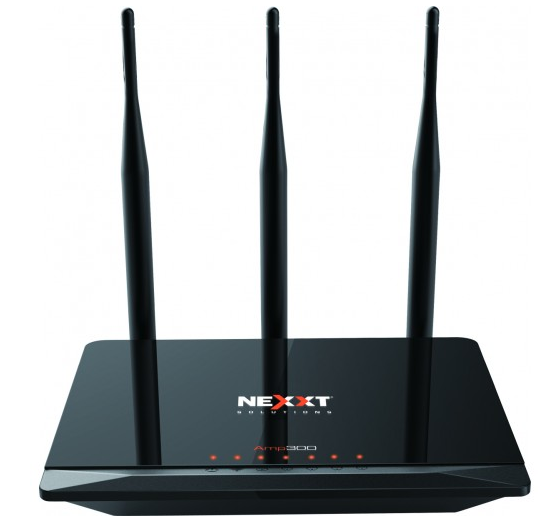 Recommendations:
The best way to work a new router is to do it alone with a PC or mobile, depending on the case. In this article we will explain how to configure the Amp300 by means of a network cable (Ethernet).
Requirements:
PC or laptop (remember to disable Wi-Fi)

AMP300

Ethernet cable (this will come in the box)

Power adapter (this will come in the box)
Steps for configuration via an Ethernet cable:
Disconnect all cables connected to the Amp300 (including the power or power cable)

Connect only the power cable to the Amp300, then wait for about 10 seconds.

Press the Amp300 reset button for about 35 seconds (this button will be found on the back of the Amp300)

With the Gray cable that the Amp300 brought in its box, connect one end to the LAN1 port of the Amp300 and the other end of the cable will be connected to the Ethernet port of the computer. (if you are using a laptop please disable Wi-Fi)

Then proceed to open your browser either (Mozilla, EDGE, Internet Explorer, Chrome, Opera) and enter the following IP address 192.168.0.1

If you perform all the steps correctly, you will see a pop-up window which will ask you to enter username and password Username and Password proceed to place admin in both fields. This information can also be found in the guide and on the label under the AMP300.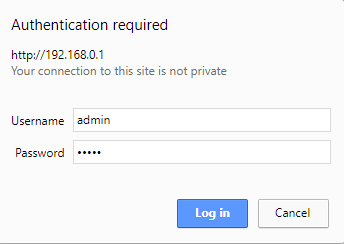 After having pressed the Login button, you can see the configuration page of the Amp300.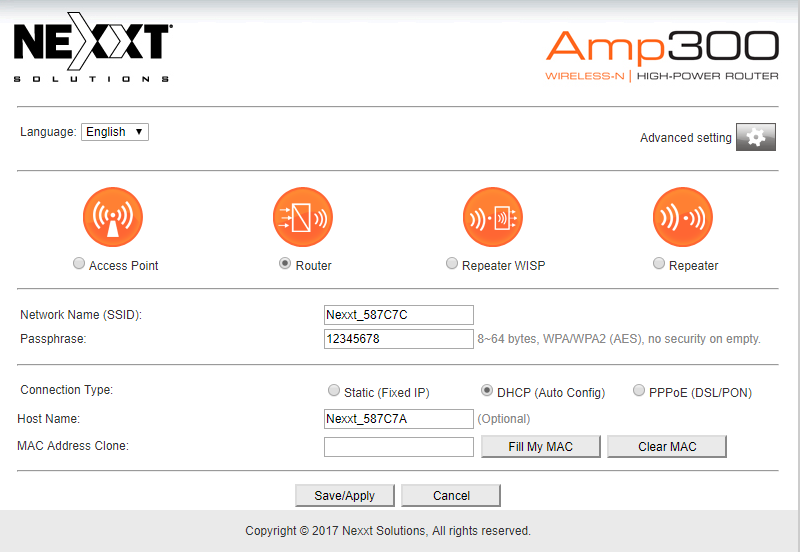 Since we want to configure the Amp300 as a Router, we want to select the option Router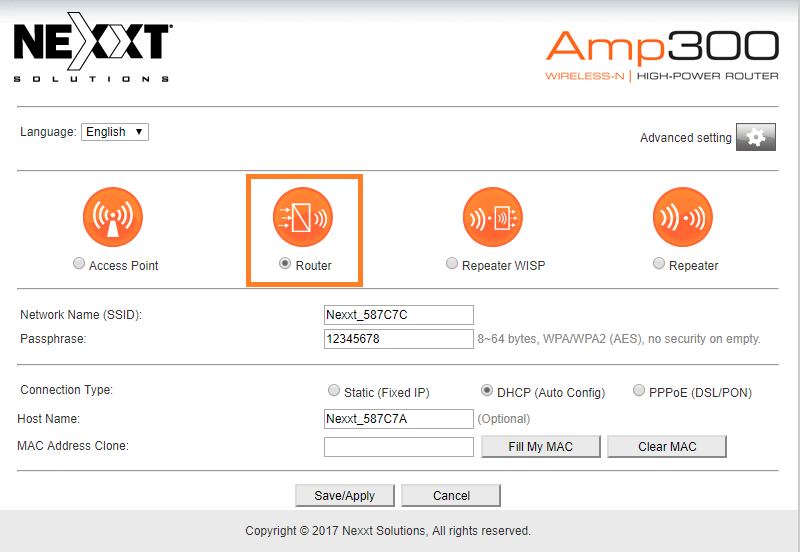 We have two fields, then we explain which one to fill and which not.
Field # 1: Network Name (SSID) and Passphrase

Network Name (SSID): Here we can change the name that the Amp300 use by default in our case the Nexxt_587C7C by the name we want to use, or we can also leave it this way.
Passphrase: Here we can place a password to secure the Wi-Fi network of the Amp300, if you don't change it you can use the one that comes by default.
Field # 2: Connection Type, Host Name and MAC Address Clone

Connection Type: Always leave it in DHCP (Auto Config). The other two options are based on your network or that of your ISP internet provider.
Host Name: It is optional, which you can leave by default.
MAC Address Clone: ​​It is only in case it is necessary to clone the MAC of the main router. (Therefore do nothing here)
At the end of everything press Save / Apply so that the configuration proceeds and your Amp300 is already secured.
At this point you can now proceed to connect the Ethernet cable that comes from the LAN port of the main router/modem to the WAN port in the Amp300